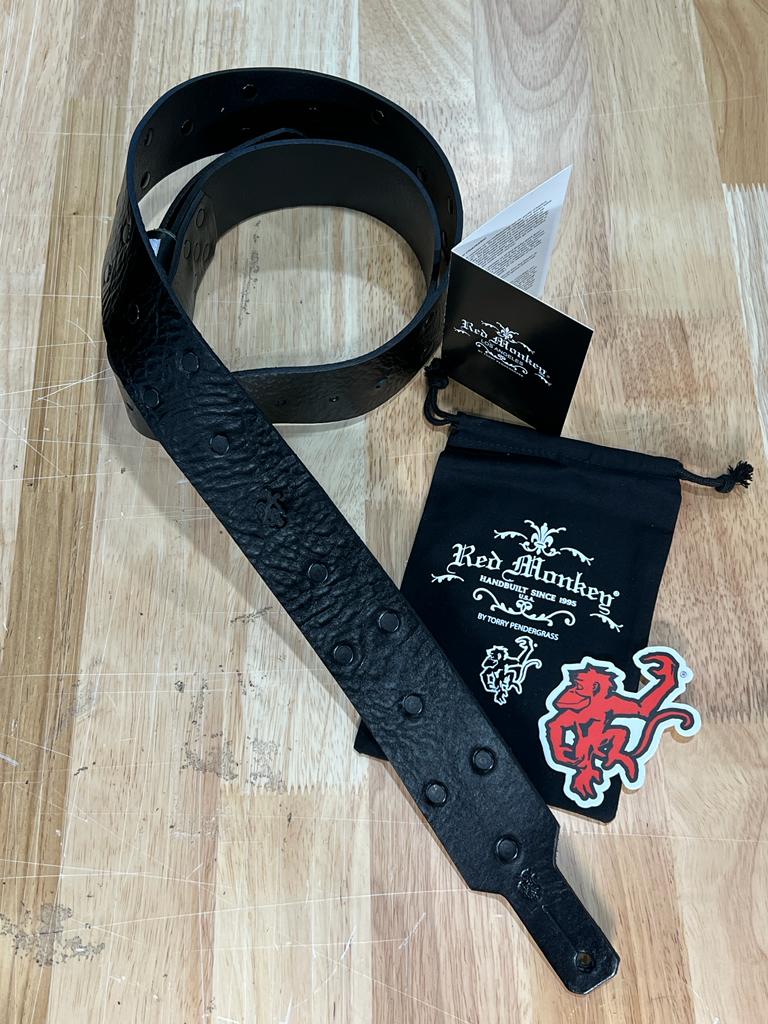 Black Angel Size 1 - Black on Black
---
If you don't see the leather/hardware color or combo you want, put your request into the CUSTOM NOTES section at checkout and we'll take it from there. (We'll email you if we have any questions)
Black + Silver
Black + Antique Silver
Black + Brass
Black + Antique Brass
Smooth Black + Silver
Smooth Black + Antique Silver
Smooth Black + Brass
Smooth Black + Antique Brass
Smooth Black + Black (Midnight Special)
Cordovan + Silver
Cordovan + Antique Silver
Cordovan + Brass
Cordovan + Antique Brass
Tobacco + Silver
Tobacco + Antique Silver
Tobacco + Brass
Tobacco + Antique Brass
Cognac + Silver
Cognac + Antique Silver
Cognac + Brass
Cognac + Antique Brass
STRAIGHT OUT THE BACK DOOR OF RED MONKEY DESIGNS
This is an unsold RMD prototype for the current Black Angel guitar strap.
With a width of 2 inches, this strap offers ample support for even the heaviest guitars, while its adjustable buckle ensures a perfect fit for any player. Whether you're strumming your acoustic or shredding on your electric, rest assured that this strap will keep your instrument secure and in the optimal playing position.
ALL SALES FINAL

   Size 1:  (51-55")
   **Strap Lock holes punched upon request.
All leather products Red Monkey makes are hand-built to order.  On average, we ask for a 7-10day build time before shipping*.  However, we generally ship items within' the same week they are ordered depending on our workload.
*We generally ask for 20-30 days to build our Leather Vests.
✔ Every item his hand-built to order in Los Angeles, CA
✔ All products damaged from normal wear will be repaired/replaced
✔ Free battery Replacement for LIFE on all watches (return shipping not covered)
✔ All watchbands are guaranteed for LIFE