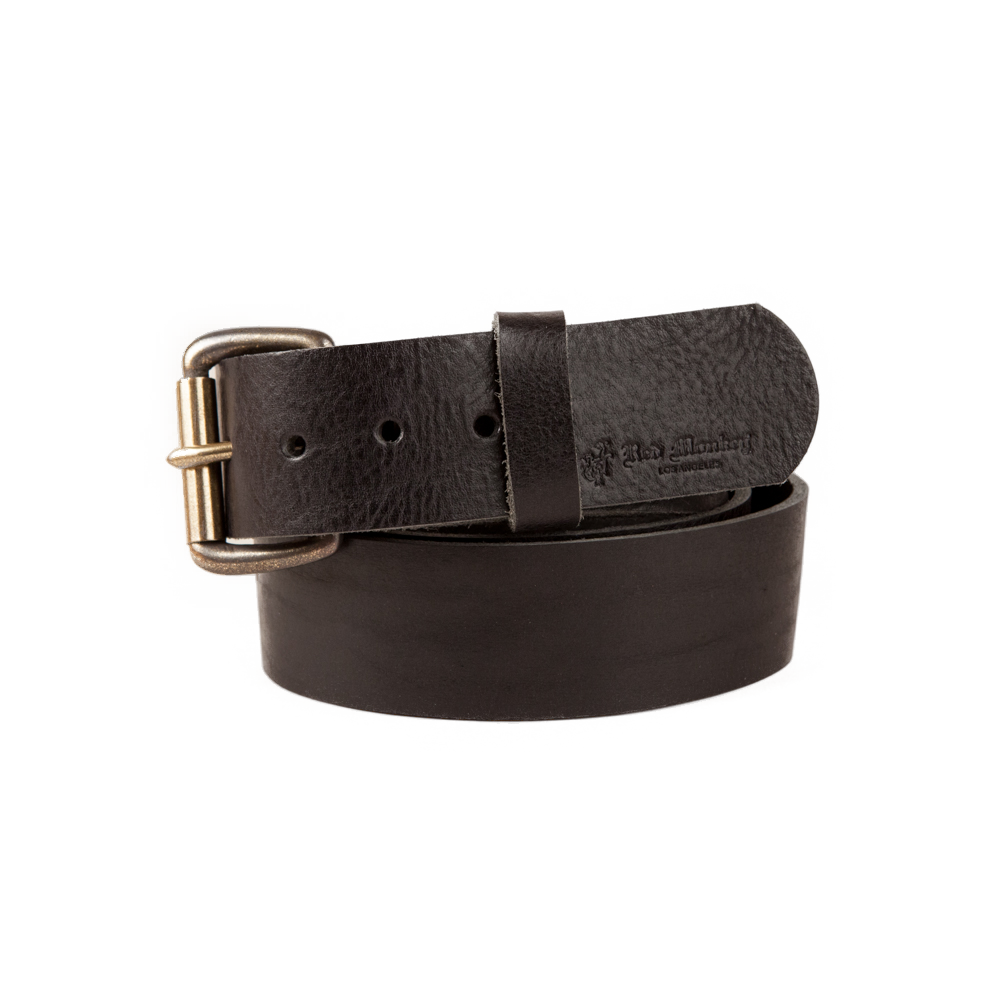 Antiqued Leather Belt
---
If you don't see the leather/hardware color or combo you want, put your request into the CUSTOM NOTES section at checkout and we'll take it from there. (We'll email you if we have any questions)
Black + Silver
Black + Antique Silver
Black + Brass
Black + Antique Brass
Smooth Black + Silver
Smooth Black + Antique Silver
Smooth Black + Brass
Smooth Black + Antique Brass
Smooth Black + Black (Midnight Special)
Cordovan + Silver
Cordovan + Antique Silver
Cordovan + Brass
Cordovan + Antique Brass
Tobacco + Silver
Tobacco + Antique Silver
Tobacco + Brass
Tobacco + Antique Brass
Cognac + Silver
Cognac + Antique Silver
Cognac + Brass
Cognac + Antique Brass
Introducing the Antiqued Leather Belt by Red Monkey Designs
Discover the latest addition to Red Monkey Designs' boutique leather collection: the Antiqued Leather Belt. This 1.5-inch wide belt is expertly crafted from our signature heavyweight leather, ensuring both durability and comfort that will stand the test of time in your wardrobe.
Uniquely finished with meticulous hand-oiling and rubbing by our skilled artisans, each Antiqued Leather Belt boasts an aged and timeless appearance. The finished edges and Hand Antiqued buckle further enhance the belt's sophisticated style, making it the perfect accessory for both casual and formal occasions.
Built to last as a genuine leather product, the Antiqued Leather Belt maintains its shape and quality even with regular use. With each belt possessing its own distinct character, you can be confident that your accessory will be truly one-of-a-kind.
Elevate your style with Red Monkey Designs' Antiqued Leather Belt, the go-to accessory for all occasions. Shop now to experience the exceptional quality and craftsmanship of our handmade leather products.
All leather products Red Monkey makes are hand-built to order.  On average, we ask for a 7-10day build time before shipping*.  However, we generally ship items within' the same week they are ordered depending on our workload.
*We generally ask for 20-30 days to build our Leather Vests.
✔ Every item his hand-built to order in Los Angeles, CA
✔ All products damaged from normal wear will be repaired/replaced
✔ Free battery Replacement for LIFE on all watches (return shipping not covered)
✔ All watchbands are guaranteed for LIFE