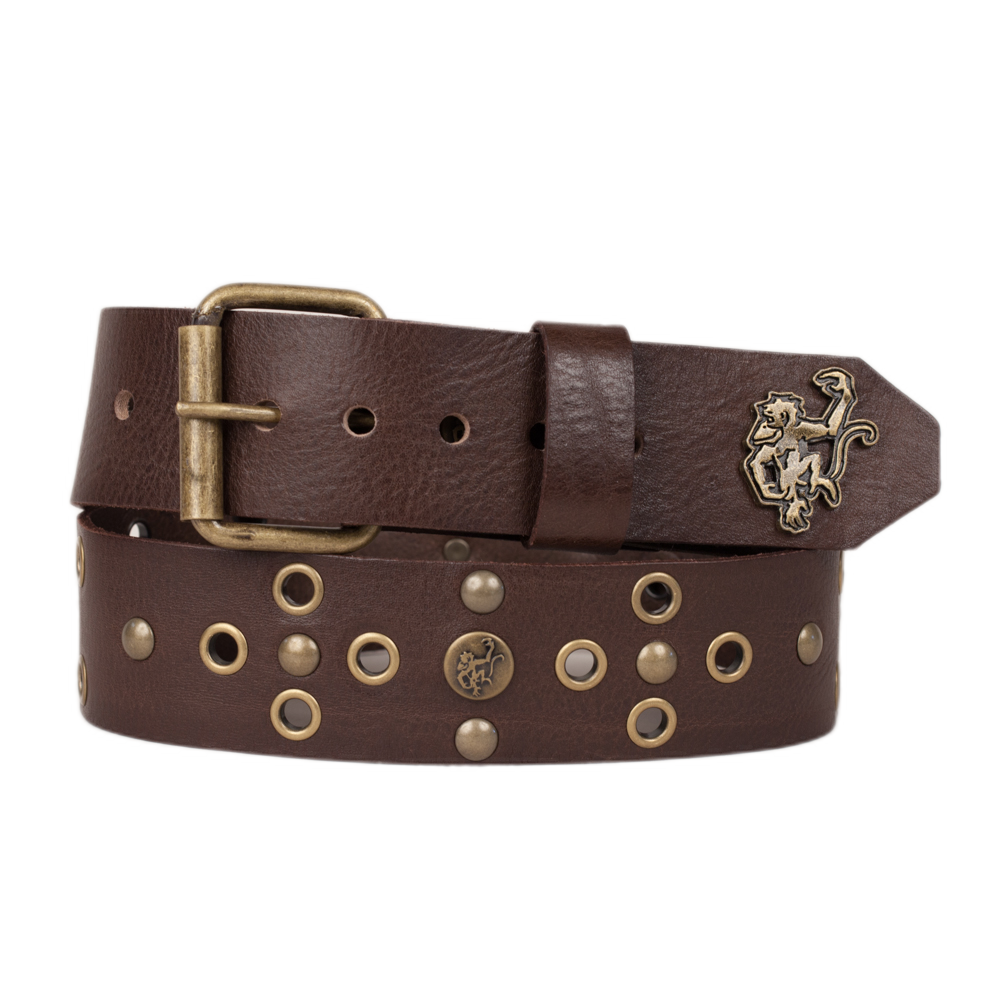 BANDIT BELT
---
If you don't see the leather/hardware color or combo you want, put your request into the CUSTOM NOTES section at checkout and we'll take it from there. (We'll email you if we have any questions)
Black + Silver
Black + Antique Silver
Black + Brass
Black + Antique Brass
Smooth Black + Silver
Smooth Black + Antique Silver
Smooth Black + Brass
Smooth Black + Antique Brass
Smooth Black + Black (Midnight Special)
Cordovan + Silver
Cordovan + Antique Silver
Cordovan + Brass
Cordovan + Antique Brass
Tobacco + Silver
Tobacco + Antique Silver
Tobacco + Brass
Tobacco + Antique Brass
Cognac + Silver
Cognac + Antique Silver
Cognac + Brass
Cognac + Antique Brass
Introducing the Red Monkey Designs Bandit Belt: Elevate Your Style
Upgrade your wardrobe with the Bandit Belt from Red Monkey Designs. This premium chocolate leather belt is not only visually appealing but also offers a luxurious feel that matches its stylish appearance.
With a width of 1 3/4 inches, the Bandit Belt is designed to make a bold statement. It's the perfect accessory for individuals who aim to stand out and showcase their unique sense of style. The belt features Antiqued Brass fittings, adding a touch of vintage charm and elegance to your ensemble. Crafted with top-quality materials and expert craftsmanship, this belt is built to withstand the test of time.
The Bandit Belt is versatile, effortlessly complementing various outfits, whether you're dressing up or down. Pair it with jeans, shorts, or dress pants to enhance your look for any occasion.
In summary, the Red Monkey Designs Bandit Belt is an essential addition to any fashion-forward individual's wardrobe. It perfectly combines style and sophistication, destined to become a staple piece you can rely on for years to come. Elevate your style today with the Bandit Belt from Red Monkey Designs.
All leather products Red Monkey makes are hand-built to order.  On average, we ask for a 7-10day build time before shipping*.  However, we generally ship items within' the same week they are ordered depending on our workload.
*We generally ask for 20-30 days to build our Leather Vests.
✔ Every item his hand-built to order in Los Angeles, CA
✔ All products damaged from normal wear will be repaired/replaced
✔ Free battery Replacement for LIFE on all watches (return shipping not covered)
✔ All watchbands are guaranteed for LIFE