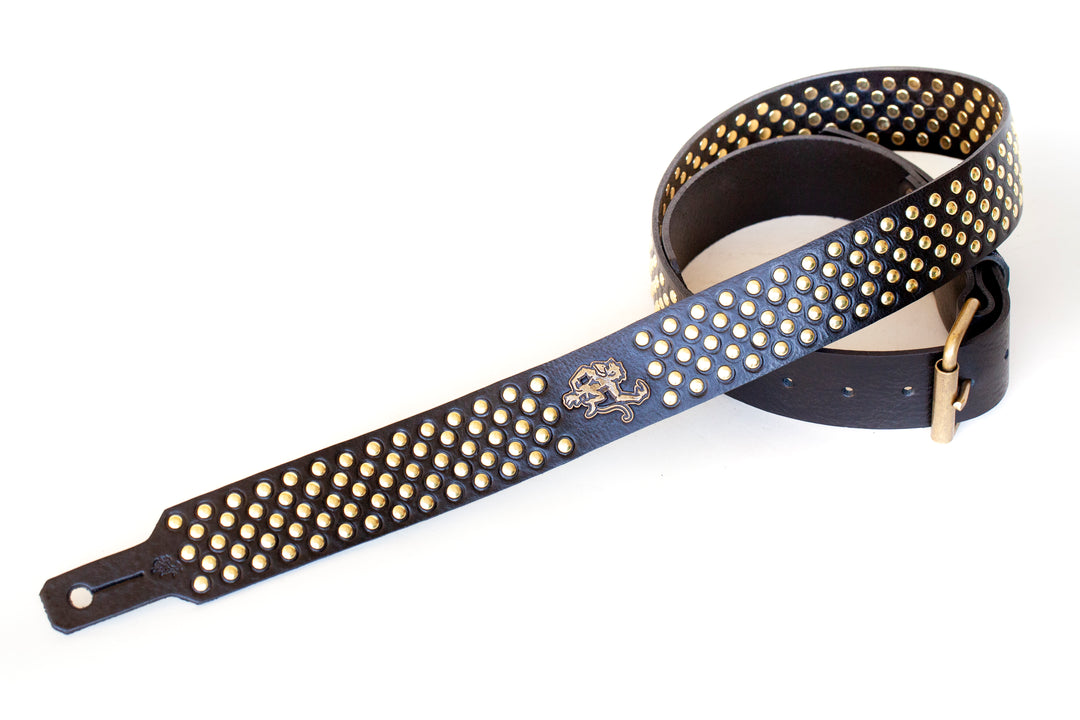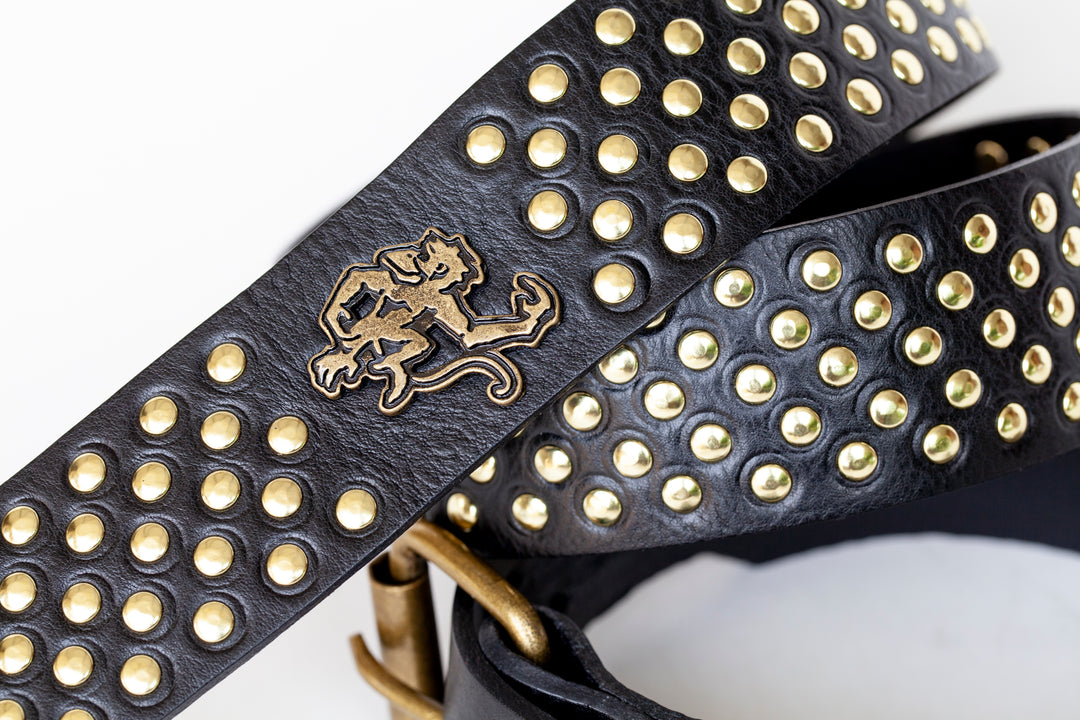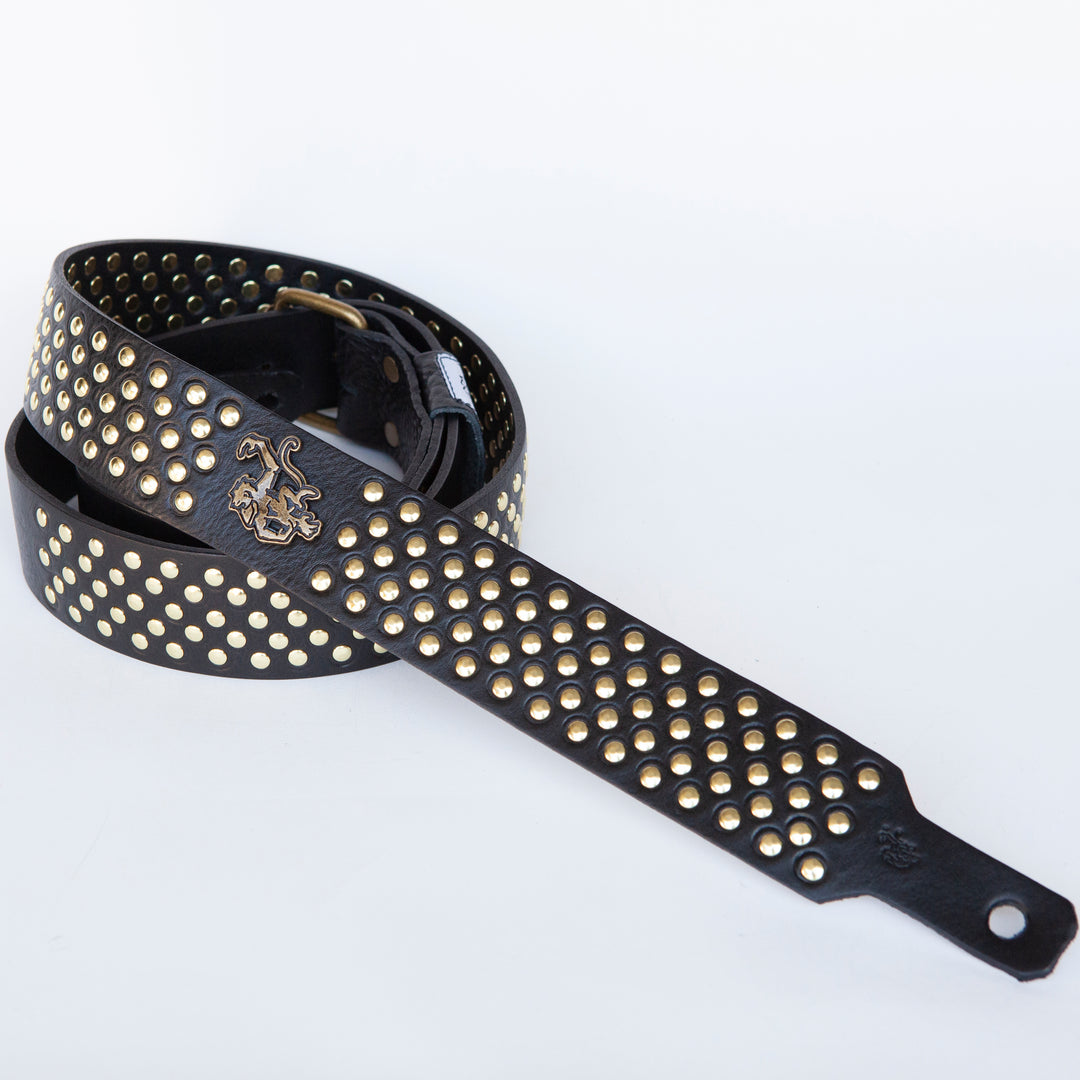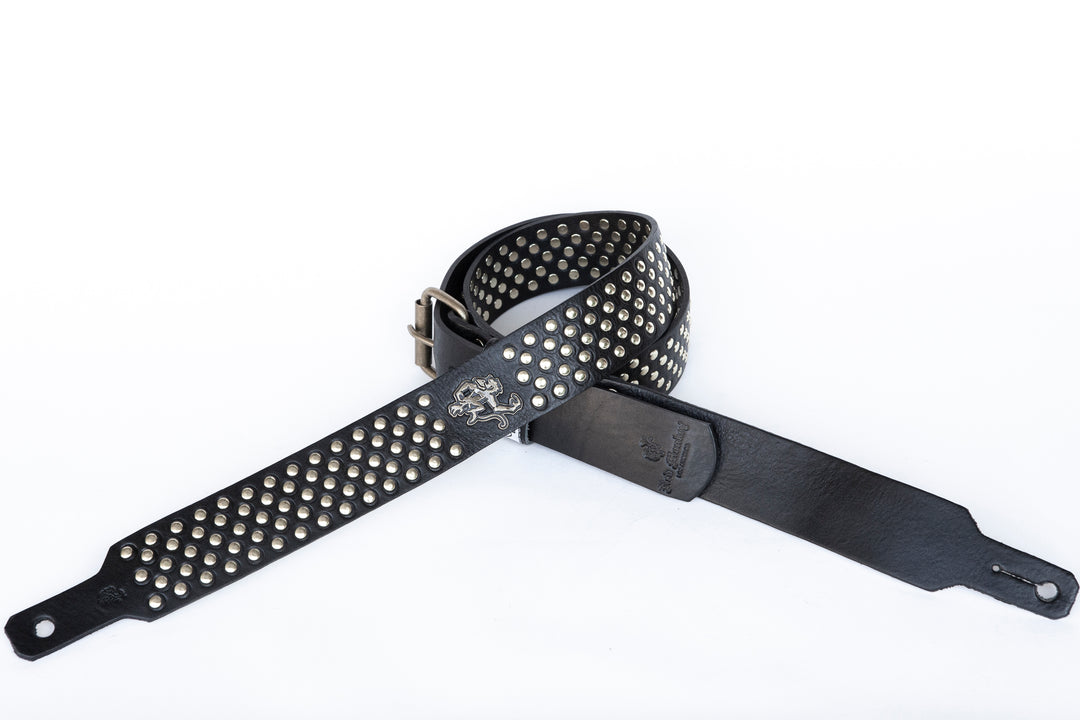 BOOTLEG
---
If you don't see the leather/hardware color or combo you want, put your request into the CUSTOM NOTES section at checkout and we'll take it from there. (We'll email you if we have any questions)
Black + Silver
Black + Antique Silver
Black + Brass
Black + Antique Brass
Smooth Black + Silver
Smooth Black + Antique Silver
Smooth Black + Brass
Smooth Black + Antique Brass
Smooth Black + Black (Midnight Special)
Cordovan + Silver
Cordovan + Antique Silver
Cordovan + Brass
Cordovan + Antique Brass
Tobacco + Silver
Tobacco + Antique Silver
Tobacco + Brass
Tobacco + Antique Brass
Cognac + Silver
Cognac + Antique Silver
Cognac + Brass
Cognac + Antique Brass
Introducing the Red Monkey Designs Bootleg guitar strap - a true rockstar accessory that will take your stage presence to the next level!
Crafted from the highest quality leathers, the Bootleg guitar strap is not only durable but also stylish. It's hand-cut and built by hand to ensure that every detail is perfect, right down to the hand-set stud design. Speaking of studs, this glam guitar strap features hundreds of micro studs that are hand-set into a domed shape, capturing stage lights like no other strap.
The Bootleg strap boasts a comfortable 1 3/4 inch width that will keep your guitar securely in place, no matter how hard you rock out. And with your choice of hardware, you can customize the strap to your liking. Whether you prefer classic silver or something more edgy like black or brass, we've got you covered.
We understand that every guitarist has their own unique preferences, which is why we've made it easy to attach the Bootleg strap to your guitar. It comes with pre-punched regular guitar strap holes, but if you prefer to use strap locks, we can punch larger holes to accommodate your needs.
So if you're ready to turn heads and steal the show, get your hands on the Red Monkey Designs Bootleg guitar strap today. Trust us, it's the accessory your guitar has been waiting for.  

Available in 2 sizes: 
 Size 1:  (51-55")
Size 2:  (56-60")
**Strap Lock holes punched upon request.
***Special sizing available upon request.  
Red Monkey Designs products are hand crafted in the USA, Red Monkey Designs is a US based company that specializes in hand made leather products, we feature hand made leather watches, hand made leather belts, hand made leather guitar straps, hand made leather camera straps, hand made leather specialty products, Red Monkey Designs features hand made leather accessories. Red Monkey Designs has designed and crafted many custom hand made leather products for the entertainment, movie, fashion and rock and roll industries as well as individuals in those industries.
All leather products Red Monkey makes are hand-built to order.  On average, we ask for a 7-10day build time before shipping*.  However, we generally ship items within' the same week they are ordered depending on our workload.
*We generally ask for 20-30 days to build our Leather Vests.
✔ Every item his hand-built to order in Los Angeles, CA
✔ All products damaged from normal wear will be repaired/replaced
✔ Free battery Replacement for LIFE on all watches (return shipping not covered)
✔ All watchbands are guaranteed for LIFE